Published: Biological Invasions in South Africa
In what is actually a big event for the Centre for Invasion Biology, and invasion biologists all over South Africa, our book "Biological Invasions in South Africa" is published today! Moreover, it is Open Access and therefore free for anyone to download.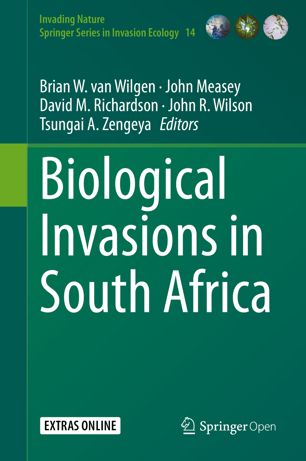 With 104 authors contributing to 31 chapters, there are nearly 1000 pages of text in this volume. The idea is that this book represents an encyclopaedic approach to covering all aspects of invasions in South Africa.
I wrote 2 chapters in the book that cover the invasive vertebrates in South Africa, as well as the invasive animals that have been donated from South Africa to the rest of the world. I also contributed to seven more chapters that cover many different aspects of invasions. Below you'll find the citations to my chapters, but I recommend downloading the entire book and looking through it all.
Byrne MJ et al. (2020) Education, training and capacity building in the field of biological invasions in South Africa. In: van Wilgen BW, Measey J, Richardson DM, Wilson JR, van Wilgen BW (eds) Biological invasions in South Africa. Springer, Berlin, pp 731-755. https://link.springer.com/chapter/10.1007/978-3-030-32394-3_25
Davies SJ et al. (2020) Experience and lessons from invasive and alien animal control projects carried out in South Africa. In: van Wilgen BW, Measey J, Richardson DM, Wilson JR, van Wilgen BW (eds) Biological invasions in South Africa. Springer, Berlin, pp 629-663. https://link.springer.com/chapter/10.1007/978-3-030-32394-3_22
Measey J, Hui C, Somers M (2020) Terrestrial vertebrate invasions in South Africa. In: van Wilgen BW, Measey J, Richardson DM, Wilson JR, van Wilgen BW (eds) Biological invasions in South Africa. Springer, Berlin, pp 115-151. https://link.springer.com/chapter/10.1007/978-3-030-32394-3_5
Measey J, Robinson TB, Kruger N, Zengeya TA, Hurley BP (2020) South Africa as a donor of alien animals to other parts of the world. In: van Wilgen BW, Measey J, Richardson DM, Wilson JR, van Wilgen BW (eds) Biological invasions in South Africa. Springer, Berlin, pp 787-830. https://link.springer.com/chapter/10.1007/978-3-030-32394-3_27
Potgieter LJ et al. (2020) Biological invasions in South Africa's urban ecosystems: Patterns, processes, impacts and management. In: van Wilgen BW, Measey J, Richardson DM, Wilson JR, van Wilgen BW (eds) Biological invasions in South Africa. Springer, Berlin, pp 275-309. https://link.springer.com/chapter/10.1007/978-3-030-32394-3_11
Richardson DM, Abrahams B, Boshoff N, Davies SJ, Measey J, van Wilgen B (2020) South Africa's Centre for Invasion Biology: An Experiment in Invasion Science for Society. In: van Wilgen BW, Measey J, Richardson DM, Wilson JR, van Wilgen BW (eds) Biological Invasions in South Africa pp 879-914 https://link.springer.com/chapter/10.1007/978-3-030-32394-3_30
van Wilgen BW, Measey J, Richardson DM, Wilson JR, Zengeya T (2020) Overview of biological invasions in South Africa. In: van Wilgen BW, Measey J, Richardson DM, Wilson JR, van Wilgen BW (eds) Biological invasions in South Africa. Springer, Berlin pp 3-31. https://link.springer.com/chapter/10.1007/978-3-030-32394-3_1
Wilson JR et al. (2020) The role of environmental factors in promoting and limiting biological invasions in South Africa. In: van Wilgen BW, Measey J, Richardson DM, Wilson JR, van Wilgen BW (eds) Biological invasions in South Africa. Springer, Berlin pp 355-385. https://link.springer.com/chapter/10.1007/978-3-030-32394-3_13
Wilson JR, Measey J, Richardson DM, van Wilgen BW, Zengeya TA (2020) Potential futures of biological invasions in South Africa. In: van Wilgen BW, Measey J, Richardson DM, Wilson JR, van Wilgen BW (eds) Biological invasions in South Africa. Springer,  Berlin pp 917-946 https://link.springer.com/chapter/10.1007/978-3-030-32394-3_31