A talk at the amazing Xishuangbanna Tropical Botanical Garden, Chinese Academy of Sciences.
Few venues to give a talk rival visiting the spectacular Xishuangbanna Tropical Botanical Garden (more commonly referred to as XTBG) research centre run by the Chinese Academy of Sciences. The location is within the Xishuangbanna Dai Autonomous Prefecture in southern Yunnan Province near the border with Laos. The gardens are set on an island in a meandering river, and are host to more than 4000 species of plants, including tropical forest native to the area.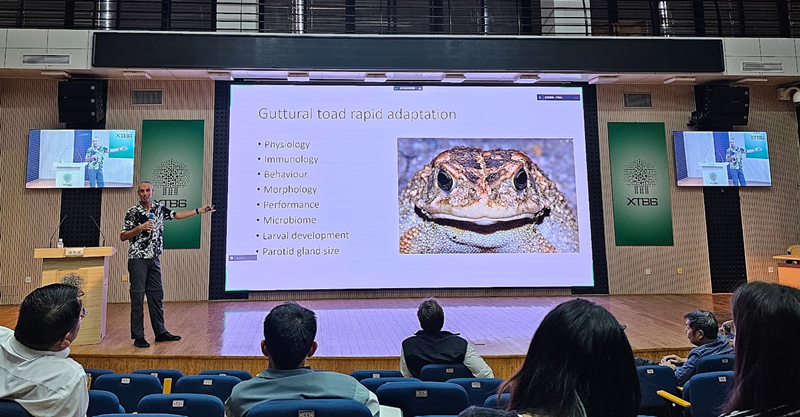 I provided a summary of the MeaseyLab work on rapid adaptation in Guttural Toads and African Clawed Frogs, which went down very well with many rapid-fire questions. Afterwards, we had an amazing meal and discussion with many researchers also working on complementary themes around rapid evolution. Thanks to my hosts Kyle Tomlinson and Ahimsa Special thanks to Yiran, Niña, Thilina and Ade for all their kindness.
It is always a pleasure to visit and meet all of the enthusiastic researchers from all over south-east Asia. There is an amazing mixture of research projects including invasive plants and animals. I'm really looking forward to my next visit.
Measey, J. (2023) What can biological invasions teach us about rapid evolutionary change? 28 November 2023. Xishuangbanna Tropical Botanical Garden, Chinese Academy of Sciences