Becoming Dr Mac
You may remember that back in March (see blog entry here), Mac submitted his PhD thesis to the examiners. Now with comments back from all three, it was time for him to publicly defend his thesis in the department of Botany & Zoology, Stellenbosch University.
Mac faced many questions at the end of his talk, but easily managed to respond to all of them. 
Mohlamatsane 'Mac' Mokhatla
It's been a long journey since I started working with Mac during his MSc at University of Pretoria (with Chris Chimimba & Berndt van Rensburg), and since then he's moved to Port Elizabeth (via Bloemfontein), Stellenbosch and is now based in Sedgefield. During this time, Mac has gone through some of the biggest challenges life has to offer including: relocating (at least 3 times), starting a job (at SANParks), having a child (Thateho), and getting married (to Boitumelo). He's managed all of this and still maintained his passion and dedication for South African amphibians, their distribution and long-term conservation. Mac – I'm very grateful for your dedication, friendship and integrity as a scientist. It's always a pleasure to work with you.

Mac started his PhD in April 2013 at Nelson Mandela University (then NMMU), and transferred to Stellenbosch University in 2014 when I moved to work with CIB. Much of the practical work that you'll see him present was conducted at NMU, and then written up in Stellenbosch University. He started work with South African National Parks (SANParks) in February 2016 as Environmental Specialist Scientist based at Rondevlei, near Sedgefield. This speaks volumes about his long-term dedication to conservation in South Africa. Despite the demands of his full time position, Mac has managed to finish writing up his PhD, and he'll now present his work which demonstrates well his continued passion and dedication for predicting long term effects of climate on African amphibians.
I need to mention the very important roles played by Dr Ben Smit (Rhodes University) and Dr Dennis Rödder (Zoologisches Forschungsmuseum Alexander Koenig, ZFMK). Ben and Dennis guided Mac through his work on Phyiology and model making, respectively, in their own labs. Each deserves a lot of credit for bringing Mac to be Dr Mac.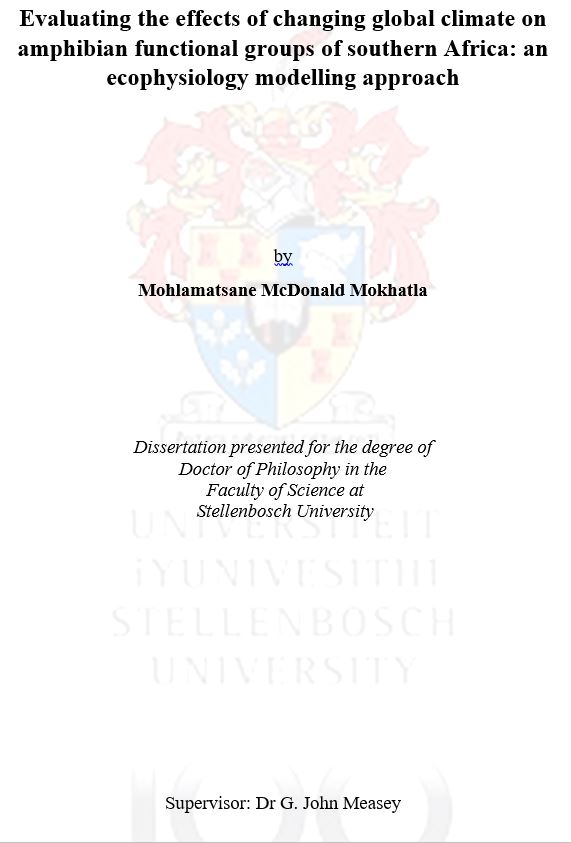 His thesis is entitled: Evaluating the effects of changing global climate on amphibian functional groups of southern Africa: an ecophysiology modelling approach
Eventually, with all the corrections done, it was time for Mac and I to go celebrate together. Unfortunately, the rest of the lab were all away and so it was just the two of us to raise a glass each.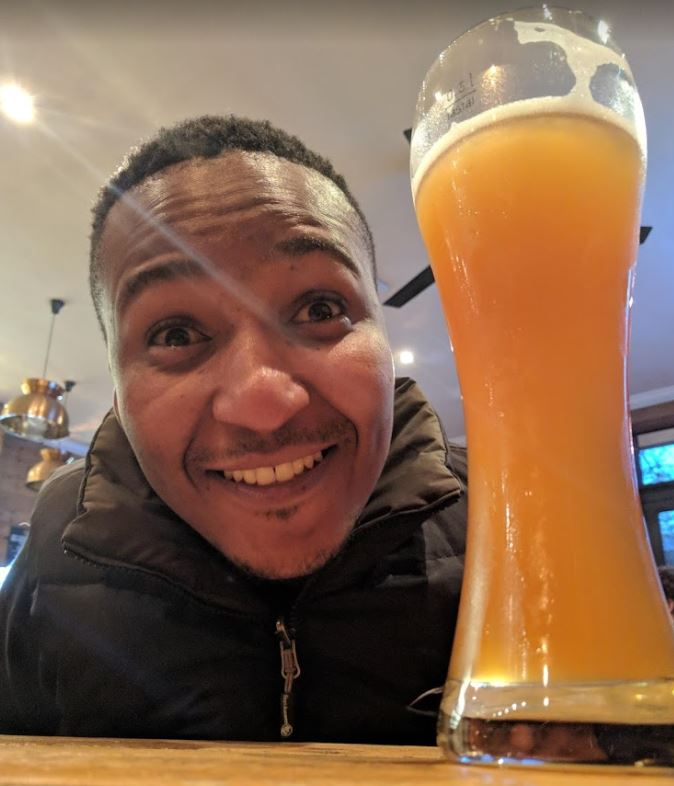 Congratulations Dr Mac!