Cannibalism and the African clawed frog
There's something about cannibalism that intrigues reporters, so that if you have it in your title you're really very likely to get some press coverage. Corey did in his paper recently publised online early in the African Journal of Ecology (see blog article here). And so it was that Joshua Learn contacted us about writing something for the New Scientist about this article.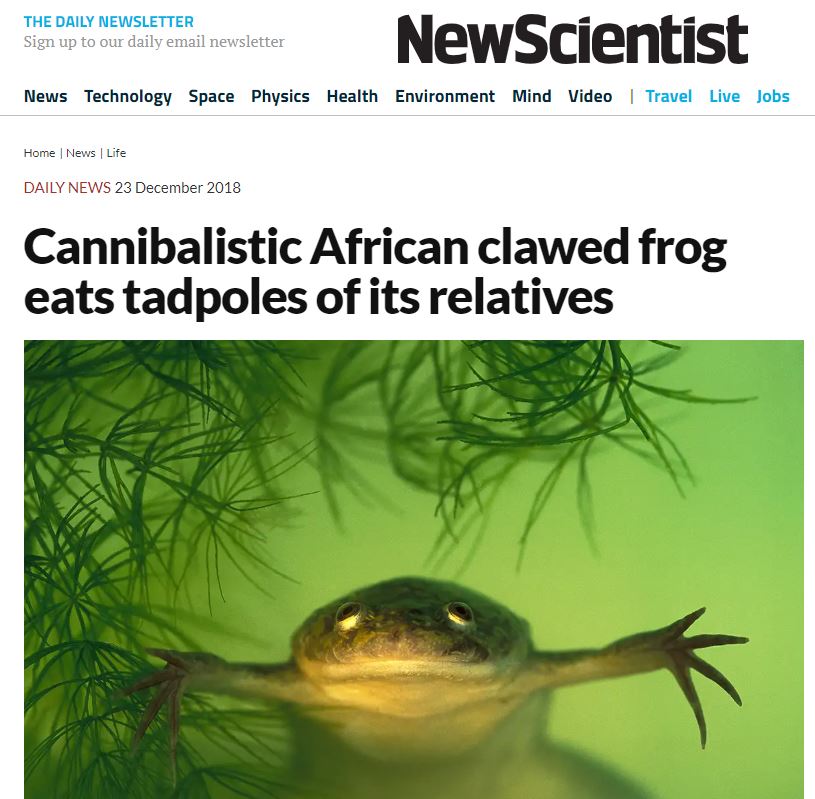 You can read the original article by Joshua here. 
And as if by magic, lots of other folk have picked up on this story, but all using the same New Scientist article as a base.
Read stories in the Daily Mail 
and TimesLive. This last one is a bit disturbing as the South African journalist (Dave Chambers) appears to believe that X. laevis are not indigenous to Cape Town (which of course they are). He also dug up a scary picture of me...
Read Corey's paper here in the African Journal of Ecology:
Thorp, C.J., Vonesh, J.R. & Measey, J. (in press) Cannibalism or congeneric predation? The African clawed frog (Xenopus laevis Daudin) preferentially predate on larvae of Cape platannas (X. gilli Rose & Hewitt). African Journal of Ecology DOI:10.1111/aje.12577 pdf