Careers inside academia
Last week, we looked at how a postgraduate degree equips you for theworld outside academia. This week we turn our attention to becoming an academic. We invited four academics from outside the MeaseyLab to zoom into our meeting and asked them: (i) the course of their career that took them into their current position; (ii)  the reasons why they think they were hired (and insights into how they hire others); and (iii) skills that they think were important during their post-grad positions that they continue with today. There then followed a Q & A session where they revealed key insights into their world.

As previously, I had the benefit of a recording of the session in putting this blog together, and the participants have all had the opportunity to correct my quirky interpretation. 


Name

Current position

Professor of Herpetology




Lecturer, Ecology and the Environment

Deputy REF lead

Staff Scientist

Curator & Professor

Institution

Smithsonian Tropical Research Institute

& University of Bologna

The path to current position

Given a snake as a pet

Was given lots of advice and interest nurtured by two mentors

Gained advantage through passion of subject

Was hired at Wits

Got interested in phylogenetics at university

Got into a lab which studied phylogenetics of frogs (Germany)

Switched from frogs to anoles (US)

Interested in genomic reasons for adaptation to climate 

Pregnancy interrupted career

Took tenure track position at a teaching university (US)

Teaching and research position at U Hull (UK)

Studied maths [exited mysteriously]

Ecology at U Liverpool

Paleobiology at U Bristol

11 years of postdoc and started family

[applied for many jobs, but didn't get called to interview]

Hired into Smithsonian where postdocs were conducted

Lives and works on ismuth of panama

Anthropology

Paleontology

Evolution & development

Better at keeping animals dead than keeping them alive

Got insight from museum specimens

3 one-year post docs in same place while family started

Few jobs offered

CalAcad curator & scientist

Moved to Florida to museum and have lab group

What you need to get a job

Passion for your subject will make you stand out above others

Possession of certain traits including good work ethic, intelligence, logic and creativity  

Competence in a suite of skills including good writing skills, numeracy and ability to synthesize ideas

Products that you can show: papers, infographics, engagements, evidence of productivity

Good work ethic

Technical proficiency

Teaching experience

Demonstrate that you are committed to the position and place

Research productivity (starting and finishing projects)

Evidence of grant writing
Key Insights
Here is a list of key insights that our team shared. They are in no particular order, but each one probably deserves a lot more information. 
Academics often suffer from

imposter syndrome

A suite of skills that are all are required:

Need a logical mind: even OCD

Good writing skills

Computational skills

Attention to detail

The importance of finishing the job

Being creative (not just for arts students)

Need to read (a lot)

The coolest job in the world as you're paid to learn

Research has to be fun 

Once you have a tenured position metrics are unimportant

Have to produce a publication that you are proud of

You have to tolerate rejections

Papers

Conferences

Positions

Don't be harsh on yourself - it happens to everyone

Don't rely on how people used to get hired, or that positions you see now will become available in the future 

Don't ignore the importance of natural history observations (the

Martin Whiting

approach)

Write the notes as they demonstrate productivity

They make your CV look stronger in the early stages

Use them to get things published strategically

Don't fill your CV exclusively with these notes (there are more important things)

There is still a glass ceiling in employment institutions

Things are improving

Don't allow comments phase you - many people don't understand their own prejudices or discriminations.

Share the down sides, you'll find out that lots of other people experience them, and not just you

Role models are very useful in science

Especially someone that you can identify with from your own background

Use your network to explore which role model might fit best

Someone needs to fit into the context of the job

This means that not every job will be right for you as other people might fit better [not the fault of you or your CV]

Could be why lots of people get jobs from the inside - they are already known to fit into the team

Many institutions pride themselves on their position in the community, and will look fondly on people who are clearly committed to the place. This could include:

Speaking the local language

Writing popular articles for a local audience

Engaging with the local press and media

Giving talks to local groups

Give back into the faculty or institute - can you demonstrate that you do more than just conduct research and write papers. Are you active in your community (both big - academic community & small - departmental community)

Learn about opportunities & take advantage of them [

you make your own luck

]

Many people don't know about opportunities that are out there. 

Meet people one on one at smaller meetings [big meetings aren't good for this]

Moving around [in postdocs or between jobs] can make it more difficult to get accepted into some places that have a culture of staying put

If you know where you want to be, it's worth investing time to that institution and community [but don't count on it!]

Try to keep multiple irons in the fire

Even though career paths look linear, this is really only in hindsight. In reality they are wondering paths that sometimes wonder right out and back in again

Writing small grants isn't a waste of time as it develops this as a skill 

Grant writing is different to thesis writing or paper writing

Having a CV with evidence of lots of grants gained (even if they are small) demonstrates to people that you know this stage of the process

Showing that you can finish the same projects and produce outputs is even better

Try saying yes to opportunities (especially early on in your career)

You never know where it will take you

Establish collaborations outside your direct circle

Creativity includes reinventing yourself and your science as you move through your career

Each grant proposal is to do different work and take you into new paths and directions

Some will work out and open up whole new areas or specialities. Others won't

It's easier if you can describe exactly what you do early on in your career

A very mixed up CV leaves some people unclear about who they are hiring and for what

This doesn't mean that you have to be overly focussed, but early on it's useful to have a tag (or a few specific categories like "systematics", "comparative anatomy", "natural history" to organize your publications if they're really different from each other)

What type of job do you want?

Teaching - then get teaching experience 

Research - then make sure your CV is strong

There are more types of jobs out there, but if you know what you want (or don't want) then make sure that your CV reflects this

Your first job is not necessarily your last job 

But it could be if you love it (like Graham!)

You can use it as a springboard to go elsewhere

You might need to take the first job to get somewhere else

Learn about what you are good at and embrace it

This might require some honest reflection

It's totally possible to have a job outside academia and then move back in

Some jobs might even give you an advantage in getting an academic position

Many academic subjects are applied, and so experience in the relevant jobs really help [industry relevant experience]

You may then have inside knowledge to subjects that are taught

Maintain your understanding of the field (to get back in)

Make sure that there is a continuing narrative, a reason why you left and why this helps you come back in 

Keep irrelevant jobs off your CV

Knowing what you don't want to do can be as helpful as knowing what you do want to do

Internships are great opportunities for this

Get feedback on the letters that you write when applying for jobs

Ask people whether they will give you a letter of reference, and if that will be positive 

Different regions of the world have different styles for letters of reference

US letters are thorough [and often over the top, even flamboyant] and very long

Europeans tend to be understated and more direct

Some parts of the world may provide just a few sentences

I ask students to draft their own letters that accentuate what they themselves want to underline about their experiences. I won't use the same words, but it will help remind and inform me of what colleagues have done.
Thanks very much to all of our guests for their insights into how to get and retain an academic career.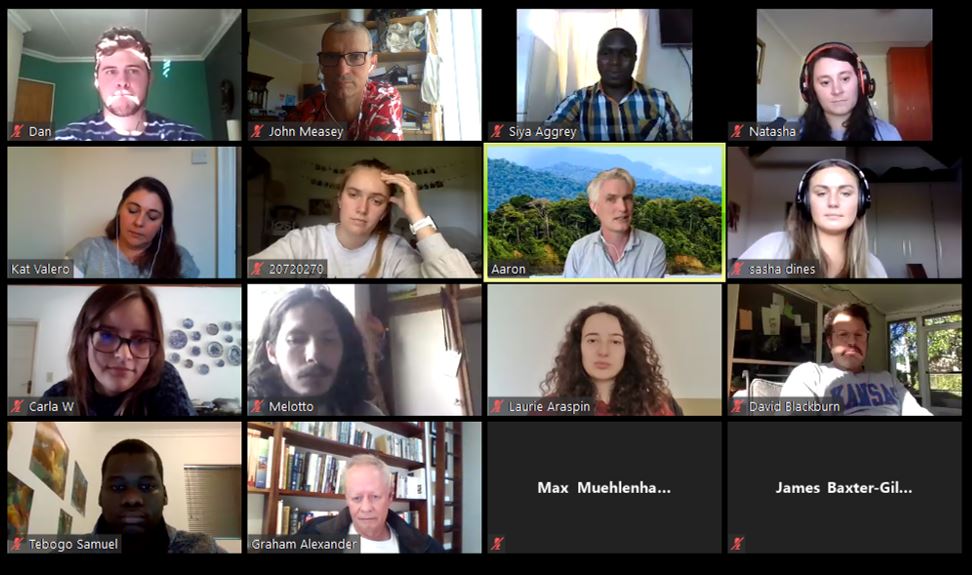 It was great to see everyone - even if we were all zoomin around. Dave grew a moustache [maybe not for this occasion] but it's questionable if it'll ever be seen again
During the meeting, Aaron mentioned that very few people from Africa apply to go to the Smithsonian to study tropical biology. This could be considered one of those opportunities. Both internships and fellowships are available.
Here are the links to internships at STRI
https://stri.si.edu/academic-programs/internships
And Fellowships at STRI:
https://stri.si.edu/academic-programs/fellowships
For both, the trick is to communicate with the potential advisor before submission. Staff at STRI and their research focus are listed here:https://stri.si.edu/staff-scientists