Getting a reporter's view
When I got an email from Wendell Roelf, Reuters news agency, asking for information about invasive trees and any frogs that they may impact, there was one clear example that sprung to mind. We have been monitoring the rough moss frog on the Klein Swartberg near Caledon for around 10 years now. In that time the invasion from pine trees on the massif has been spectacular. Since a fire in 2011, we have seen the mountain turn from blackened earth to a carpet of pine seedlings, and now thick sways of pines that are so dense that individuals are as thin as sticks but have reached 3 to 4 m in height. 
In amongst all this the Rough Moss Frog, Arthroleptella rugosa, can be found in fewer spots on the mountain. Where it is still present among the pines the calls are far fewer. Oliver Angus, Honours student in the MeaseyLab, has been using aSCR to determine the density of the remaining populations of the Rough Moss Frog. Stay tuned to see the outcome of his findings here.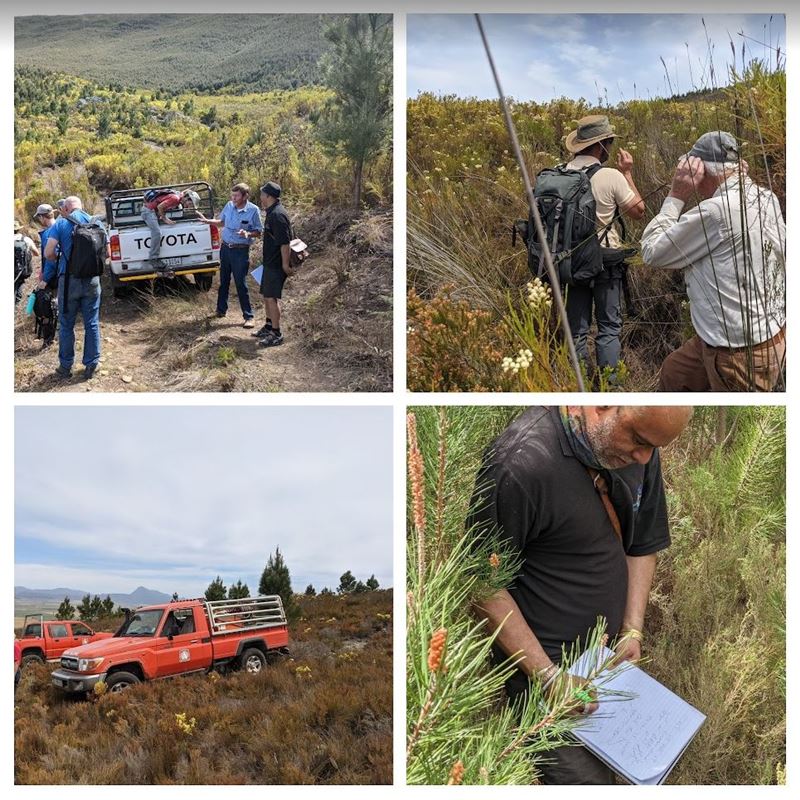 The MeaseyLab (myself, Oliver Angus and Andrea Melotto) took Wendell Roelf and cameraman Mike Hutchins up the Klein Swartberg where we introduced him to Andrew Turner from CapeNature, Lampie Fick chairman of the Klein Swartberg nature conservancy, and a team of contractors who are cutting fire breaks that will form the basis of a rotational burn on the mountain that should see it free of pines in the future. After getting the full picture, Wendell took himself off into the pines to jot down notes for his story.
It was a fun day and great to see that Wendell wrote a great article that has been syndicated all over the world.
To read Wendell's article, click the image below:

They also put together a neat video that shows what it takes to remove invading pine trees:
See copies of Wendell's article: