Do you know what an
invasive
species is?
As a part of her MSc studies, Nolwethu Jubase asked 262 people in small towns in South Africa's Western Cape province about invasive species. Participants in the survey were first asked "Do you know what an invasive alien species is [yes] [no] [unsure]?  " If they answered 'yes', they were then asked to explain what it meant. Nolwethu then showed them a series of photos of invasive species that occur in their area and asked whether they were recognised. Together with demographic details of the participants, Nolwethu was able to draw up a profile of the 25% of people who said that they knew what invasive species are. The best model fitting the data suggested that these people were male, had higher education levels and (interestingly) lived in areas with a higher density of invasive species density.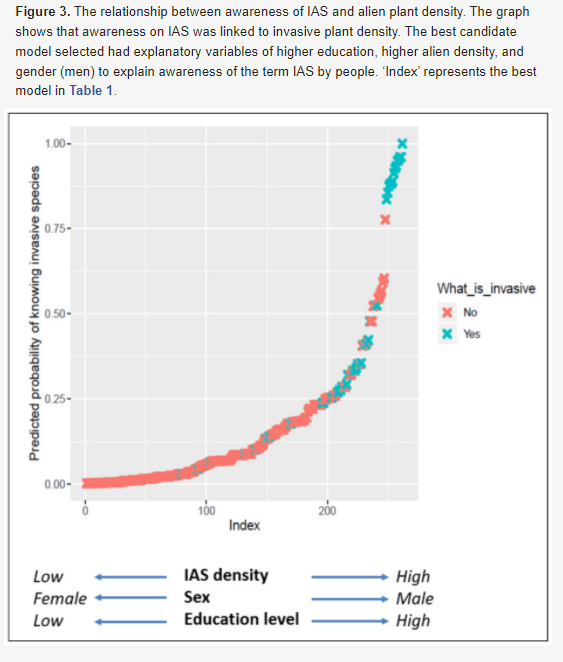 Public awareness of invasive species is an important part of any programme that attempts to control them. Surveys such as this one by Nolwethu are needed in order to determine the level of knowledge present in communities. Unfortunately, due to the COVID-19 pandemic, Nolwethu was never able to conduct the experimental part of this study. The plan was to give towns different information campaign treatments, and then see how knowledge of invasive species changed with different types of campaign. 
Nevertheless, Nolwethu was able to generate some fascinating insights into what different demographic factors are important concerning knowledge of invasive species. For me, it is particularly interesting that the density of the invasive species was part of the model that best fitted the data. This suggests that people are aware of the species in their immediate area, and that people in more highly invaded areas are aware of this fact. However, Nolwethu's work also showed that most of these same people also regard the invasive species as beneficial. 
This result can make an important difference when it comes to the approach of those involved in management programmes. When working in a highly invaded area, it is important to understand the context of the people who are living there. What do they think of the species that you are planning to manage? Will they be supportive of your programme? 
Read the full article here:
Jubase N, Shackleton RT, Measey J. Public Awareness and Perceptions of Invasive Alien Species in Small Towns. Biology. 2021; 10(12):1322. https://doi.org/10.3390/biology10121322