Visiting a new invasion of Xenopus laevis near Lille
Over the years I have managed to visit quite a few of the invasive populations of African clawed frogs covering all 4 continents on which they are currently known (Measey et al 2012). When reviewing these invasions, we found that the pathways were mostly due to the release of animals from scientific laboratories, but in 2017 when I reviewed the sources of current trade in these same frogs (Measey 2017), I predicted that we would start to see an increase in populations introduced from the burgeoning pet trade.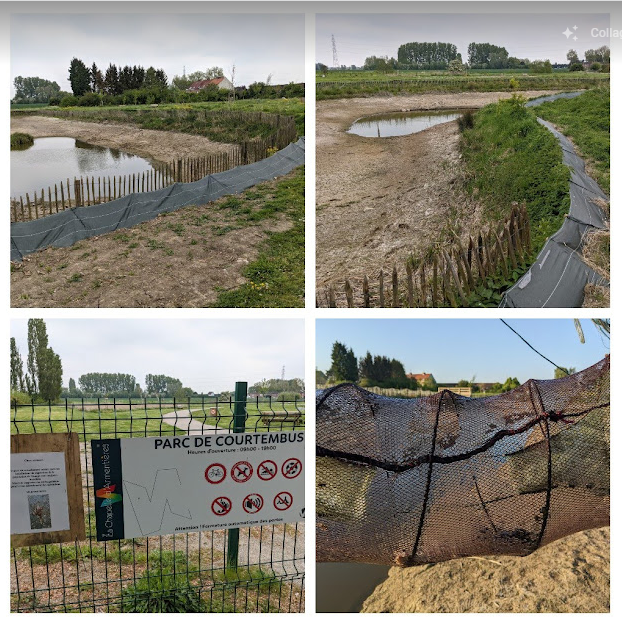 In September 2018, it was reported that a population of African clawed frogs was present in a pond of the small French town La Chapelle-d'Armentières, near Lille and close to the border with Belgium (van Doorn et al., 2022). Although we do not know much about the pathway of this introduction, it appears that the pond in question was renovated by the council around the same time as the discovery, making the pond both deeper and thereby permanent (using images from Google Earth). A swift survey of numerous water bodies on the Belgian side of the border suggested that this pond is currently the only location for this established population (van Doorn et al., 2022). 
As I was in northern France in late April 2022, I requested permission to trap at the pond and process samples for our ongoing work into native and invasive genetic diversity of this model species (see blog posts here and here). The pond had been partially drained and a sturdy drift fence was planted all around the perimeter in aid of the eradication of this species from the area (seeTechnical Reportfor more information).
I set 4 traps in the two remaining areas and the next morning found 21Xenopus laevis. 
Further Reading:
van Doorn, L., Speybroeck, J., Adriaens, T. & Brys, R. (2022). Environmental DNA sampling for African clawed frog in Flanders, Wallonia and France in 2020. Reports of the Research Institute for Nature and Forest 2022 (6). Research Institute for Nature and Forest , Brussels. DOI:doi.org/10.21436/inbor.71707757