Visiting the population of African clawed frogs in Sicily - at last!
Of all the invasions ofX. laevisaround the world, the population in Sicily has been one of the easiest to visit, yet received surprisingly little attention. Of course, Francisco Lillo conducted many excellent studies under the supervision of Mario Lo Volvo during his PhD in the early 2000's. But since then, this population has been spreading into the beautiful Sicilian countryside. 
Keen readers of this blog will know that I have been working on caecilians for many years, but this was my first visit to Sicily, and it was especially pleasing to work alongside some excellent local herpetologists, one of whom has taken up studies of this invasion: Simone Costa - again under the supervision of Mario.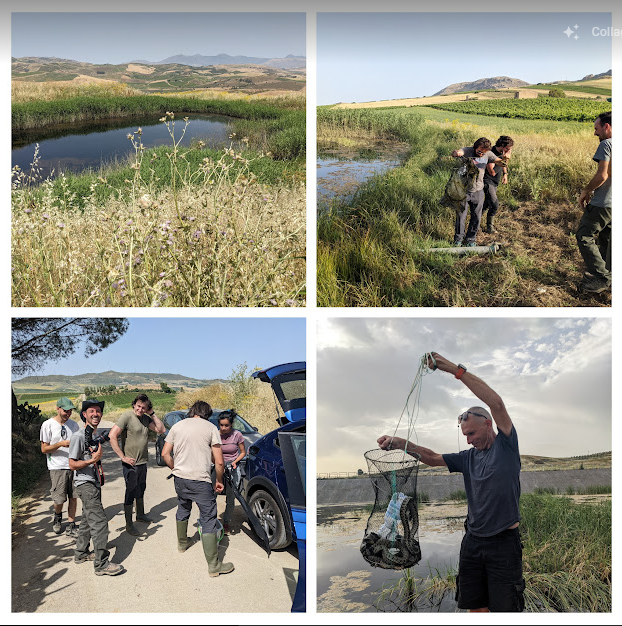 Lillo et al. (2005) first reported the discovery of an established population from June 2004 when individuals were observed in the drainage of the Fiume Iato near Lago Poma in northwestern Sicily. Apart from 2 individuals captured in 1999, this was the first time that the species had been observed on the island. The source of this invasion is thought to be from laboratories at the University of Palermo whereX. laeviswas used for studies on developmental biology (Measey et al 2012).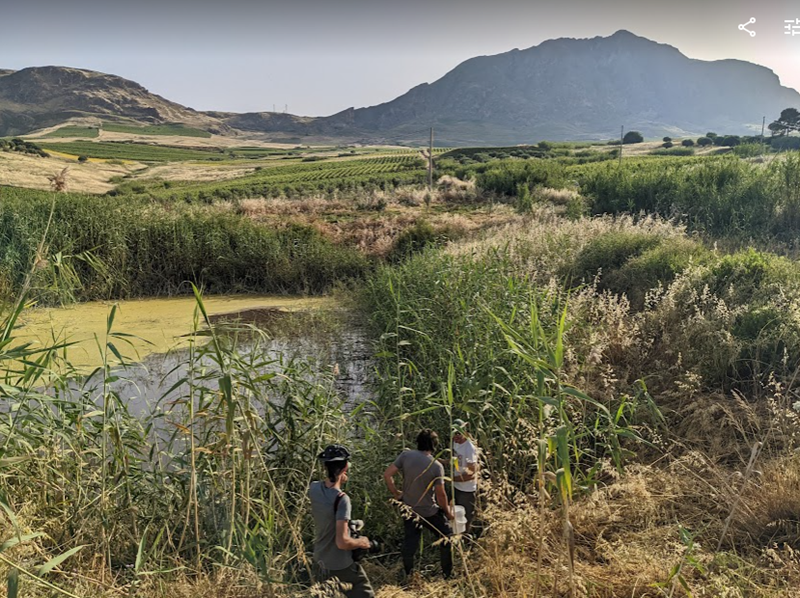 With the generous help of Mario Lo Volvo, Simone Costa and his band of herpetologist helpers (Mathia, Bruno & Peppe) we dashed around the countryside in search of points on Simone's red list of occupied ponds with dense populations. 
One of the surprises Dareen Amojil and I was the amount of native herpetofauna that was also attracted to our traps. Most prominent wereNatrix helvetica, the Italian Barred Grass Snake - which were particularly good natured about having spent a night in traps with one of their favourite foods (lumps of Xenopus could be seen along their body and Simone informed us that individuals would occasionally vomit up their recently acquired prey). In addition, traps often containedEmys orbicularis, the European Pond Turtle, and when present it was often the case that they had shredded some of the X. laevis  also in the traps. One trap (pictured above) was so heavy with these additional occupants that I struggled to lift it out of the pond.
We had such a great time sampling in Sicily that we have to make a special thank you to Simone, Mathia, Bruno, Peppe and (of course) Mario. Thanks so much for all your help and friendship. We look forward to returning to Sicily soon.
Further reading:
Lillo, F., Marrone, F., Sicilia, A., Castelli, G. and Zava, B., 2005. An invasive population of Xenopus laevis (Daudin, 1802) in Italy. HERPETOZOA 18 (1/2): 63-64.
Measey, G.J., Rödder, D., Green, S.L., Kobayashi, R., Lillo, F., Lobos, G., Rebelo, R. and Thirion, J.M., 2012. Ongoing invasions of the African clawed frog, Xenopus laevis: a global review.Biological Invasions,14(11), pp.2255-2270.