Ghost frogs are under threat from invasive fish - it's official
Dan van Blerk defended his MSc thesis today in what is likely one of the most anticipated events of 2023. Dan has been working for the last 2 years on getting enough data from as many streams as possible to establish whether or not invasive fish (most notably bass and trout) are impacting tadpoles of ghost frogs. The data were unambiguous. Invasive fish are having a major impact on the density of ghost frog tadpoles.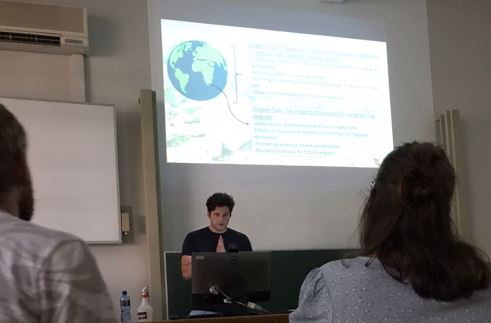 Having this unambiguous data is really good news. It is all very well to speculate that the invasive fish impact tadpoles, and there are a couple of annecdotal studies that show the same. But getting robust data from lots of sites on lots of rivers is no easy job. Dan worked tirelessly, trudging up and down some of the most beautiful scenery in South Africa's fynbos, to collect the necessary data. In truth, Dan greatly enjoyed his time in the field. It did give him a great excuse to play in water and catch fish - two of his most enjoyable pursuits.
Below one of Dan's pics shows the upper portion of a stream beyond which fish cannot reach, and the tadpoles are safe!
His work is critical to conservation managers who require evidence in order to base their conservation management decisions.

We look forward to seeing Dan's work in print shortly!
Read more:
van Blerk, D. (2023) The Impacts of Invasive Fish on Ghost Frog tadpoles. MSc thesis, Stellenbosch University. http://hdl.handle.net/10019/32356