Xenopus laevis gets listed by the EU as an invasive alien species of Union concern
Back in October 2018, I was invited to Brussels to referee the impact assessment for African clawed frogs by Riccardo Scalera and various contributors (see blog posthere). At this point, the assessment had already been going on for some time. 
This month, I was back in Brussels for another meeting (Conference on the management of vertebrate invasive alien species of Union concern). An announcement during that meeting was that the EU was about to sign a document stating that the species being reviewed in 2018 were about to come into effect. Thus, on 15 July 2022, Ursula Von der Leyen signed in an update to the list of invasive alien species of Union concern, includingXenopus laevis(seehere). This list will come into effect later in August, and in particular for the African clawed frog, research institutions are being allowed extra time to issue permits before their listing takes effect.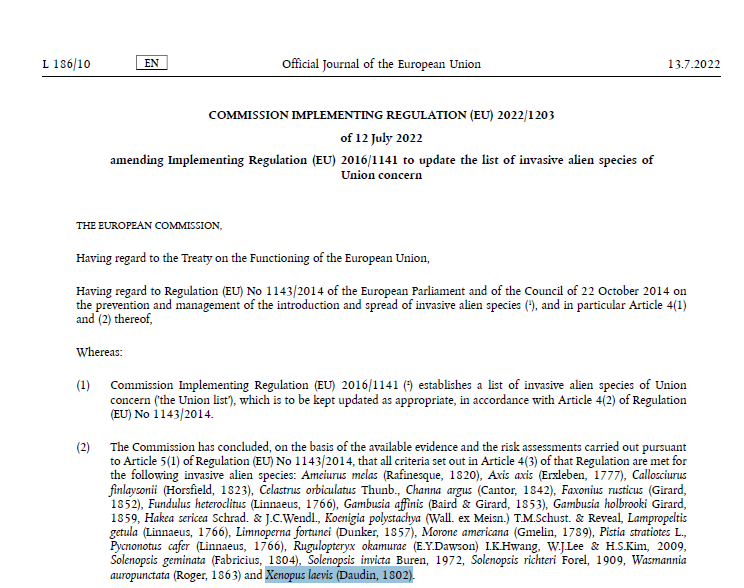 This is really exciting news. In the ~40 years sinceX. laevishas been invading France (and longer in the UK - although these regulations won't affect the UK directly), many people refused to believe that this species had any significant impact. I remember contacting co-ordinators ofDAISIE(Delivering Alien Invasive Species Inventories for Europe), and being told that they had no interest. Similarly, despite my best efforts the ISSG refused to update their pages onX. laeviswith important evidence of impacts. So what tipped the balance?
The funding ofINVAXEN, and later theLIFE project CROAAwere both funded by the EU and provided plenty of extra evidence thatX. laeviswas an impacting invasive species. Once the EU had invested in the research, they were more interested in looking more closely. Now, some 4 years after the meeting in Brussels, we finally see that the EU is serious about this species. It is worth remembering that the procedure takes a lot of time for a reason, there is a process to be followed with plenty of steps (see below). Also within this period, at least two more invasions in the EU have occurred (Bordeaux and Lille) and the latter appears to be spreading.
It's taken a long time, and there are plenty of people who have played an important role in getting the African clawed frog listed. I hope that this now means the species will no longer be available for sale as a pet (i.e. end of trade) and that EU member states will take extra measures when new populations are found.
Process followed to list species an invasive alien species of Union concern
European Commission or Member State propose a risk assessment + evidence that criteria for listing are met.

Drafts are public and open to comments (within deadline).

Scientific Forum checks scientific robustness of draft risk assessments: are they fit for purpose?

IAS Committee checks IAS for compliance with criteria listing (meetings in 2021). Commission internal consultation

Notification to WTO: notified on 27 October 2021, 60 days - No comments received

Public feedback: 5 weeks, 16 November - 14 December 2021. 43 comments received

IAS Committee checks IAS for compliance with criteria listing and votes (meeting 2022)

Submission for adoption by Commission (written procedure) - 12 July

Publication in OJ 

Entry into force - 20 days after publication (mid-August 2022)