A session dedicated to the Guttural Toad (Sclerophrys gutturalis)
The Conservation Symposium (1-4 November 2021) had a special session on the morning of 4 November 2021 where five MeaseyLab members presented their work on Guttural Toads. Because these presentations were recorded ahead of time, we are able to share them for your interest in a playlist here.
The humble guttural toad (Sclerophrys gutturalis): Lessons of plasticity and adaptation following invasion: John Measey
Introduction of guttural toads (Sclerophrys gutturalis) produces marked shifts in the endemic western leopard toad (Sclerophrys pantherina) gut microbiome: Carla Wagener
Does urban adaptation enhance invasiveness? A case study of tadpoles of a successful invasive amphibian: Max Mühlenhaupt
Conqueror toads: Comparing behaviour, performance and competitive potential in a successful invader and its native congeners: Andrea Melotto

An army marches on its stomach: Diet composition and prey preference of guttural toad (Sclerophrys gutturalis) populations along a native-invasive and natural-urban gradient: Sam Peta
The session was well attended with 140 people online. You may recognise some of the people below who showed up to face the questions...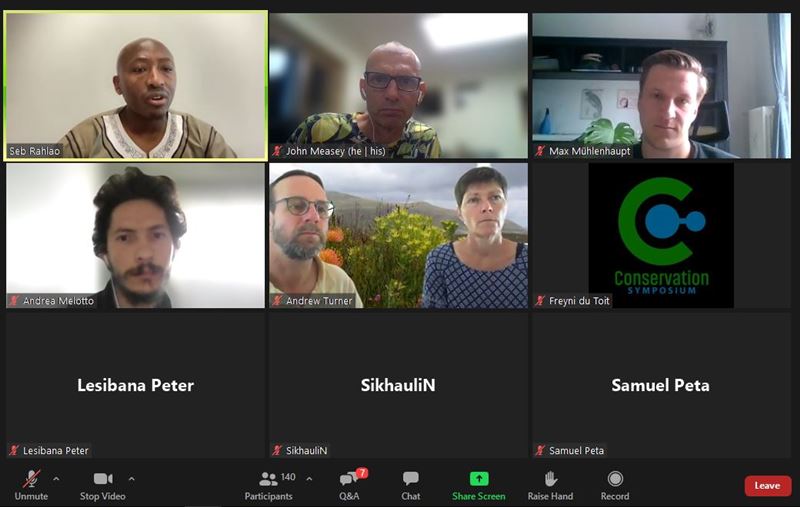 Measey, J. 2021. The humble guttural toad (Sclerophrys gutturalis): Lessons of plasticity and adaptation following invasion. The Conservation Symposium, 1-5 November 2021

Wagener, C., Measey, J. 2021. Introduction of guttural toads (Sclerophrys gutturalis) produces marked shifts in the endemic western leopard toad (Sclerophrys pantherina) gut microbiome. The Conservation Symposium, 1-5 November 2021

Mühlenhaupt, M., Baxter-Gilbert, J., Riley, J., Makhubo, B., Measey, J. 2021. Does urban adaptation enhance invasiveness? A case study of tadpoles of a successful invasive amphibian. The Conservation Symposium, 1-5 November 2021

Melotto, A. 2021. Conqueror toads: Comparing behaviour, performance and competitive potential in a successful invader and its native congeners. The Conservation Symposium, 1-5 November 2021

Peta, S., Baxter-Gilbert, J., Measey, J. 2021. An army marches on its stomach: Diet composition and prey preference of guttural toad (Sclerophrys gutturalis) populations along a native-invasive and natural-urban gradient. The Conservation Symposium, 1-5 November 2021